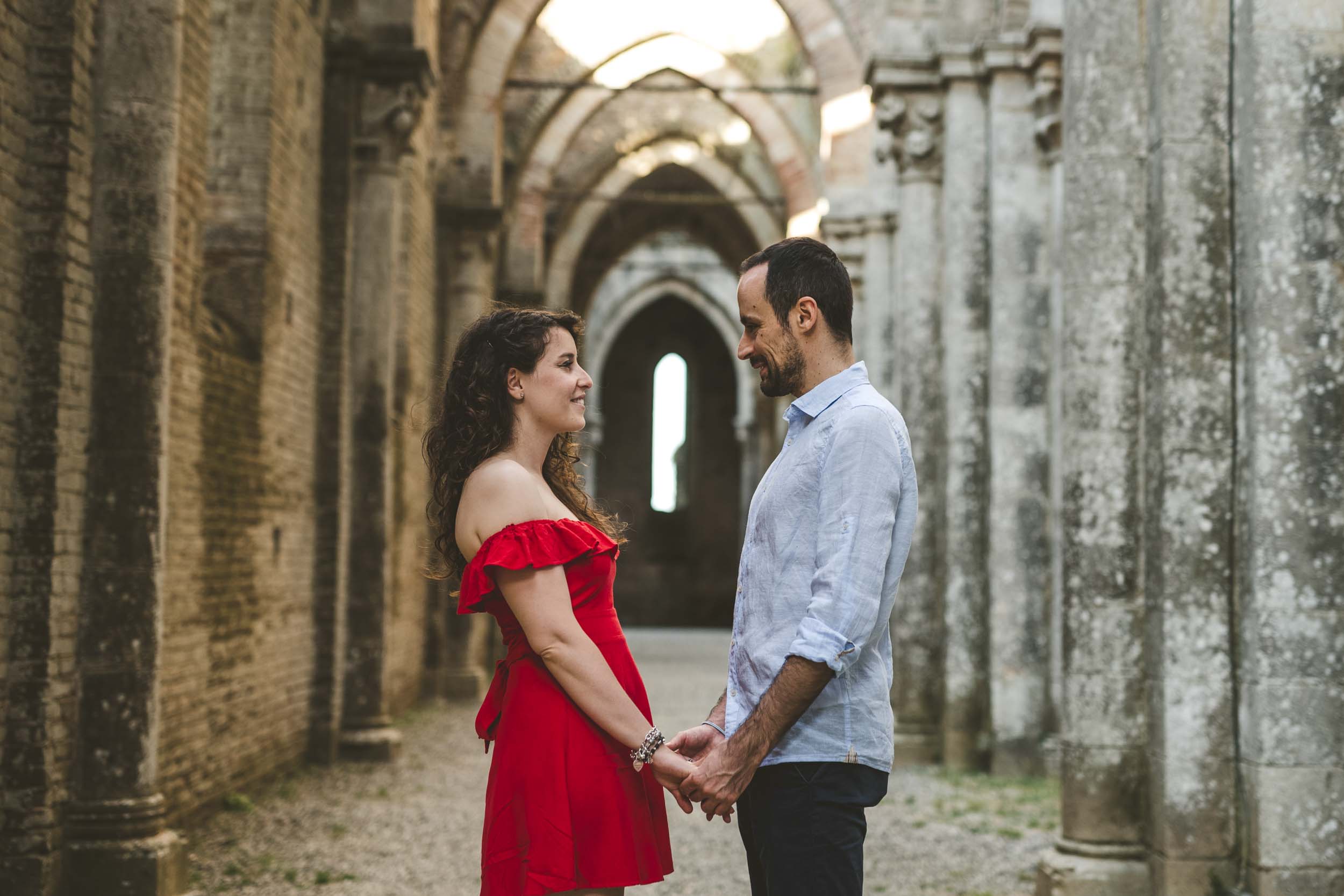 ENGAGEMENT PHOTOS IN SAN GALGANO ABBEY, TUSCANY
Wonderful day in May, appointment at the Abbey of San Galgano with a young and sparkling fabulous, waiting for the wedding day at the end of August 2022. The Abbey of San Galgano is such a surprising location, that in every season, including winter, is always able to give ideas for fantastic photo shoots, thanks to the play of light that the sun draws between its sumptuous arches, so much so that the photos do not even need post-production. In addition to being a fabulous location for romantic weddings, San Galgano is also the ideal setting for engagement photo shoots and couple portraits in Tuscany.
Even if at the beginning of the shooting the typical embarrassment in front of the lens makes itself felt a little, with the passing of the hours Mattia and Ilaria prove to be really good and spontaneous, learning to become more and more familiar with the lens and pose relax and enjoy.
Photo Engagement Service: the photographic training for the wedding day!
Being able to be casual, maybe even cool and have fun: this is the main purpose of an engagement or engagement service, which is nothing more than a photo training session before the wedding day, which is why I usually include it in the package of my wedding photo shoot! Knowing the photographer, his approach and his working method is in fact very important for the success of a wedding reportage. If possible, in fact, it is good to arrive at the wedding day with a certain safety and mutual trust, that familiarity that is often underestimated but that can be seen in the wedding reportage photos, and how! A couple portrait service is therefore an excellent tool available to the spouses to understand how to move and what to expect from a wedding photo shoot, a more than valid training waiting for the big day, which every couple should never give up!