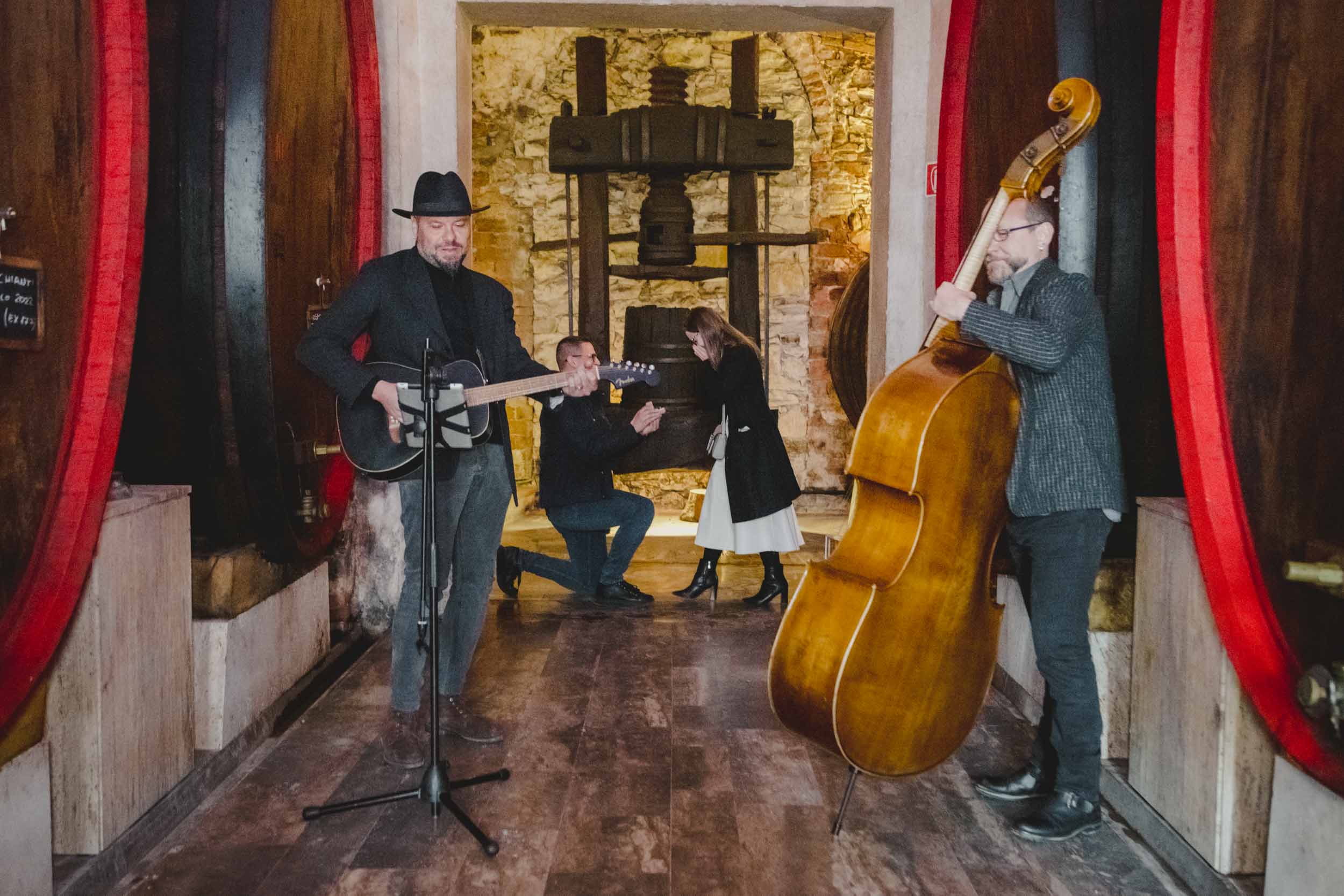 Wedding Proposal in Felsina, Tuscany
Mid-March and after an email contact with Franko, I start organizing a Proposal Photo Shoot in Tuscany for him and his girlfriend, trying to satisfy his precise request to find the right location in typical Tuscan style, choosing from the many wine cellars from the province of Siena that I know very well. The choice falls on Felsina, a small winery in the municipality of Castelnuovo Berardenga, in the heart of Tuscany, a beautiful and ancient structure, built in the typical rustic Tuscan style, where it is possible to make private visits and tastings, tasting the excellent vintage wines and reserves.
The couple has booked a guided tasting and a visit to the cellar, but obviously the fiancée is unaware of the "unscheduled". At the end of the tasting therefore, the couple arrives in the cellar and waiting for them, together with me ready to immortalize the moment, there is a fantastic acoustic duo of The Tuscan Vibes, a musical duo made up of Marco Pisaneschi (guitar & voice) and Riccardo Biliotti (double bass), which begins to play a famous and romantic song by Ed Sheeran, during which he kneels in front of her making the fateful proposal! The Duo accompanies the moment with a previously agreed selection of songs, allowing the betrothed a long and slow dance in the middle of the oak barrels.

Despite some catch, the little light and the visible emotion of the future groom, the photos are really exciting and the soft musical background really makes the difference, giving future spouses a truly unforgettable moment, as well as my satisfaction of having organized an event that they will surely remember over the years!

After the fateful yes, we then head towards the Crete Senesi for a romantic couple portrait, one hour of wonderful photoshooting always wearing that particular emotion of a truly unrepeatable moment.