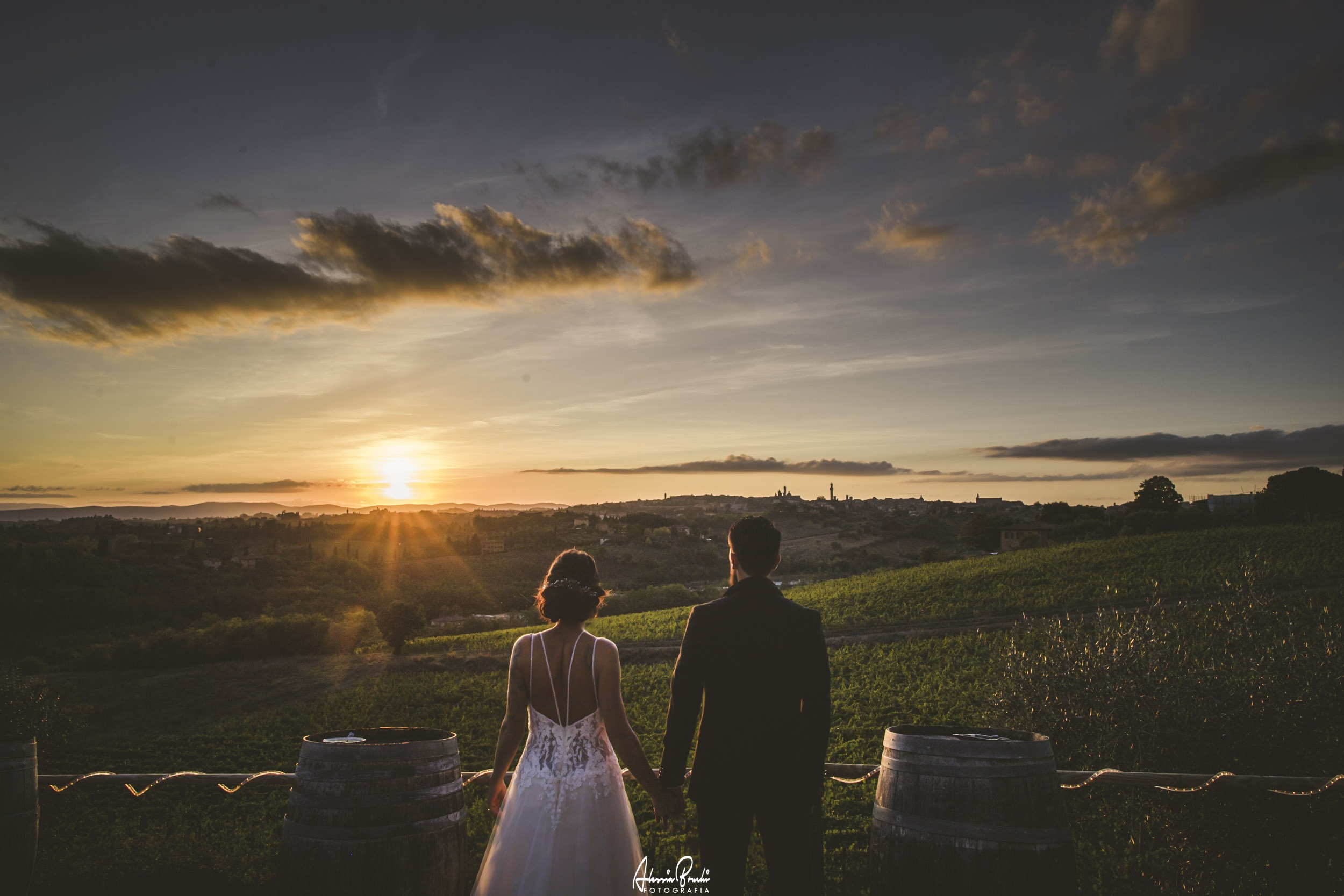 Matrimonio & Ritratto di Coppia a Castel di Pugna, Siena
Ultimi giorni di Settembre a cavallo fra la fine dell'estate e l'inizio dell'autunno, periodo in cui la natura regala i colori più belli e il paesaggio tipicamente toscano intorno a Siena si accende di tinte calde e vivaci, con quella particolare luce che sottolinea e enfatizza la straordinaria bellezza di questi luoghi. Tutto pronto allora per lo shooting di matrimonio, organizzato in collaborazione con Benedetta Vittori, Wedding Planner & Event Creator, attiva su Siena e Toscana e realizzato in una location d'eccezione: Castel di Pugna, affascinante tenuta in stile toscano situata a tre kilometri da Siena, dotata di ampi spazi sia all'aperto che al chiuso in grado di ospitare ricevimenti fino a 150 persone. Elena e Filippo, i due nostri modelli ci aspettano in location per il getting ready, pronti a indossare gli splendidi abiti, gentilmente concessi in prestito dall' "Atelier dei Sogni" di Via Massetana Romana a Siena: un completo scuro damascato per lui e due modelli per lei, uno da cerimonia, più ampio e voluminoso e un altro più lineare per il ricevimento. Per l'acconciatura e il trucco c'è poi l'"Hair Staff", affiatato team specializzato nel wedding, con sede sia a Siena che a Monteroni d'Arbia. Infine, per l'allestimento country Chic "Nencioni Service", rinomata azienda di catering con sede a Monterona d'Arbia e per quello floreale "Le Fate dei Fiori", delizioso negozio di via Frajese a Siena, ovviamente specializzata nell'allestimento di matrimoni. Servizio fotografico realizzato con Nikon Z7 e Nikon Z6, con 24mm 1.4, 50mm 1.4, 85mm 1.4, luce naturale con pannello di schiarita all'occorrenza.
Wedding Couple Portrait in Castel di Pugna Tuscany
Last days of September between late summer and early autumn, a period in which nature offers the most beautiful colors and the typically Tuscan landscape around Siena lights up with warm and lively colors, with that particular light which emphasizes the extraordinary beauty of these places. Everything is ready then for the wedding shooting, organized in collaboration with Benedetta Vittori, Wedding Planner & Event Creator, active on Siena and Tuscany and realized in an exceptional location: Castel di Pugna Farm, a charming Tuscan-style estate located three kilometers from Siena, with ample spaces both outdoors and indoors that can host receptions for up to 150 people. Elena and Filippo, our two models, are waiting for us on location ready to wear the splendid dresses, kindly loaned by the "Atelier dei Sogni" from Via Massetana Romana in Siena: a dark damask suit for him and two models for her: a ceremonial one, wider and more voluminous and another more linear for the reception. For the hairstyle and make-up there is then the "Hair Staff", a close-knit team specialized in the wedding, based both in Siena and in Monteroni d'Arbia. Finally, for the country chic installation "Nencioni Service", a renowned catering company based in Monterona d'Arbia and for the floral company "Le Fate dei Fiori", a delightful shop in via Frajese in Siena, obviously specializing in weddings preparation . Shooting realized with Nikon Z6 and Nikon Z7, with 24mm 1.4, 50mm 1.4, 85mm 1.4, natural light with lightening panel if necessary.